ProInert Technology For Your New England Business
Since its European introduction in 2003, Fike's innovative ProInert® has become widely accepted as one of the best performing, most cost-effective and environmentally-friendly inert gas fire extinguishing systems. Since 2009, this same technology has been available in the United States and other parts of the world requiring UL and FM approval.

ProInert® offers all the benefits of other inert gas systems with several significant design improvements – enhancements that not only mean a superior product but savings to your bottom line! Most inert gas systems discharge from the nozzle into the protected space with a high surge flow rate, creating a hazardous pressure peak. These systems use pressure reducers further down the pipe network in order to mitigate safety issues, but also require both high-pressure and low-pressure piping.
Because of its unique patented valve assembly, the ProInert® agent enters the protected room within the industry required 60 seconds, but at a steady flow rate — preventing destructive turbulence from occurring. This constant flow rate means you can use small-diameter, low-pressure (and less expensive) piping from the inert gas container, all the way to the nozzle. And the necessary venting area is much smaller – reducing installation costs by as much as 60% on venting hardware.  By using larger tanks, ProInert® can save up to 50% of the space required by other manufacturers. ProInert® tanks can be filled with IG-55 or IG-541.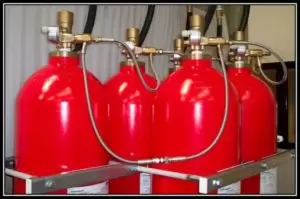 ProInert® is the 100% environmentally friendly, people safe agent with Zero ozone-depletion potential, Zero global warming potential, Zero atmospheric lifetime. If you are looking for the 100% GREEN fire protection the choice is ProInert®. ProInert® agent and associated system components are UL Listed and FM approved. SSI offers ProInert® inert gas fire protection through our quality line of Fike Products, and you can read more about it here.
Use this link to watch a video on Fike's ProInert® system.
Inert Gas Fire Suppression Services
Fire Protection Team can provide the system components and accessories to meet your complete clean agent fire suppression system requirements. Intelligent or conventional control panels, delayed action devices, early warning smoke detection, warning signs, manual releasing devices, automatic detection and warning devices and fire alarm panels.
Fire protection is important to your business. Finding the solutions to your fire protection needs is something we have been doing for decades. Contact Fire Protection Team online or by phone at 203.250.1115 for a system sales and design consultant to perform a needs analysis at your facility.