Marine Fire Suppression Systems and Marine Extinguisher Service in CT, RI, and NY Coastline
Marine fire suppression and other fire safety equipment is required for all commercial boating applications by the US Coast Guard. Personal watercrafts also have many regulations depending on boat size, engine type, and intended use.
Fire suppression systems designed for marine use are crucially important, not only for putting out dangerous fires but also protecting expensive machinery. Normal fire extinguishers are filled with ABC chemical foam which, while effective, can require extensive clean up and possibly do damage to engines and electronics. The suppression agents used on boats "FM-200 and 3M Novec 1230" not only are more effective at fire stopping than your typical ABC chemical but also leave no trace after extinguishing a fire, meaning no clean up and no possibility of further damage in the engine compartment.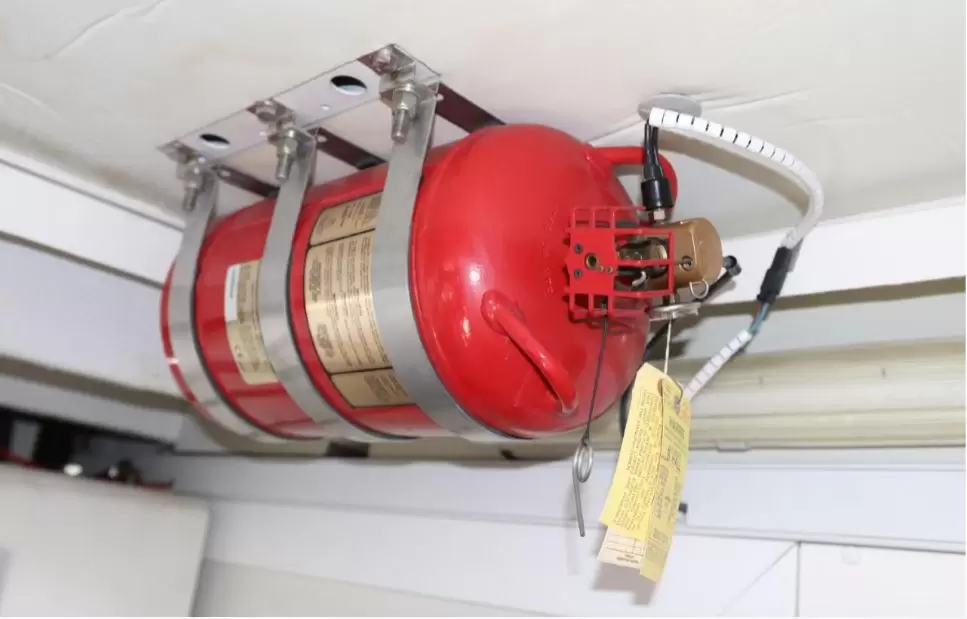 Portable Marine Extinguisher Inspections
Depending on the size of your personal watercraft vessel, you must have the necessary number of extinguishers on board and accessible. If you have refillable extinguishers, they must be tagged and serviced every year. In 2018, the laws changed and any boat made on or after this year must have the new B-5, B-10 and B-20 Extinguishers. After 12 years all disposable extinguishers must be retired and replaced.
Marine Suppression Systems Inspection
You must follow guidelines, and in certain cases, pass inspections for your already installed suppression system. FPT can come and inspect your system so that it passes US coast guard standards. If work needs to be done, our technicians will have no problem fixing your system.
Marine Suppression Systems Installation
If your  current vessel does not contain a suppression system at all and you would like to add one, in order to better protect your expensive asset and keep yourself and others safe, FPT may be able to help. Contact us today!
My suppression system has gone off, can I refill the thank?
Depending on the tank and the system, we can refill your suppression tank. In some cases, the tank will need to be replace entirely.Depending on the tank and the system, we can refill your suppression tank. In some cases, the tank will need to be replace entirely.
Am I required to have extinguishers on my personal watercraft?
Yes. All personal boats (unless under 26ft with outboards) are required to have a minimum number of marine grade extinguishers, depending on the overall length of the boat. See portal.ct.gov
I don't have a fire suppression system on my boat. Do I need one?
While it is always a good idea to have a fire stopping system for your boat's engines, it is most likely not required if you purchased it without one. If you intend to use your personal boat for any sort of business that has passengers, you will need to install a system and pass USCG inspection.