Round-The-Clock Supervision For Your Fire Safety Systems
If you are a business owner or a manager of a commercial enterprise, you are responsible for the safety and security of your property and employees. To ensure a safe work environment, you install an innovative top-of-the-line fire alarm system. However, what use is an alarm system if it's sound goes unheard? That's where fire alarm monitoring comes into play.
With round-the-clock fire alarm monitoring services from Fire Protection Team, you can be assured the building is kept safe 24/7, giving you peace of mind.
Notice Of First Warning Signs
Fire alarm monitoring services give you the security of supervising your alarm system 24/7, providing you with full control over an emergency. Our team of personnel monitor your fire alarm system round the clock, so even if there is nobody present at the building, it will still get immediate attention in case a fire breaks out.
Innovative Fire Alarm Monitoring With Unmatched Support
You may have the best, top-quality security or fire systems installed for your business on your premises, but if they have not been backed up by good service and support from the vendor, they are practically useless. Even as we provide alarm systems and equipment from leading manufacturers, we also follow it up by providing exceptional service and support.
When we install your fire safety systems, we begin a journey together. Installing, inspecting, monitoring and support together make up the components of our safety relationship with you. Unmatched quality and exclusive support are what each of our customers deserves!
Your Commercial Fire Alarm Monitoring Partner
For precise fire alarm monitoring services, Fire Protection Team has a central facility in place, manned by trained professionals 24 hours a day all year long. When a distress signal from the system is received, we will immediately inform the relevant authorities.
Alarm signals are routinely received through phone lines. We also offer internet monitoring as a special service. Internet, cellular phone, radio or standard phone lines are some of the fire alarm monitoring services Fire Protection Team offers to business owners in New England.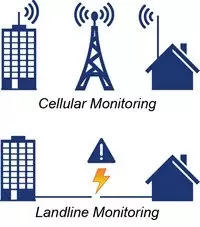 Enjoy Peace Of Mind With 24/7 Protection
Even when your business is not open, we are making sure that your property is being protected! Should a mishap occur, the right authorities are notified within seconds. This protects your assets and prevents costly damage to your property. With the largest and most experienced fire protection workforce in New England, our 24/7 fire alarm monitoring service is here for you throughout the day and night.
Make a smart decision today. Take advantage of the care and support in the service that Fire Protection Team offers! Call 203.250.1115 now or connect with us online.