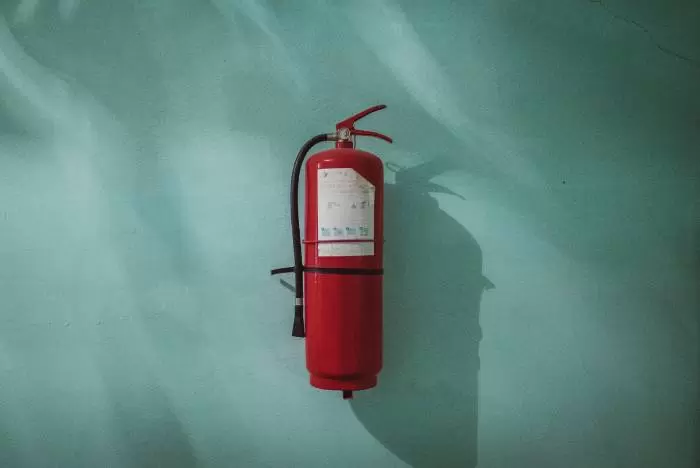 A DIY Guide to Fire Extinguisher Visual Inspection & Maintenance
If, heaven forbid, a fire were to break out in your building, how confident are you in your fire extinguishers? If it came down to a rapidly-spreading fire and the nearest fire extinguisher, are you sure that all of your employees would know what to do to stop the fire before it becomes a catastrophe?
Including regular visual inspections of your fire extinguishers as part of your company's fire safety standard operating procedures can greatly increase the likelihood that they'll work correctly when needed. Let's take a look at how you can check and maintain your extinguishers between professional inspections.
Visual Inspection: What to Look For
It's recommended that you visually inspect your fire extinguishers each month. It's all right if you're not an expert; we'll describe exactly what to look for and how to keep your fire extinguishers disaster-ready.
Accessibility: Check if the fire extinguisher is easily accessible and not obstructed by objects, furniture, or debris.
Physical Damage: Inspect the body of the extinguisher for dents, corrosion, or other physical damage that might affect its integrity.
Pressure Gauge: Ensure that the pressure gauge is within the recommended range. On most types of fire extinguisher, the acceptable range is green on the gauge, and red means it's too low. Some types have a yellow zone as well to warn that the pressure is nearing low. If the gauge indicates a low pressure, the extinguisher may not function properly.
Seals and Tamper Indicator: Inspect the safety pin, tamper seal, and tamper indicator to ensure they are intact. If any of these are broken, it could indicate improper use or tampering.

Pin: The pin is a key safety component of a fire extinguisher. It prevents the extinguisher from being accidentally discharged. The pin is usually inserted through the handle or lever of the extinguisher to keep it in a locked or safe position. The exact location of the pin can vary based on the extinguisher's design, but it's typically found near the handle or lever.
Tamper Seal: The tamper seal is a plastic or metal strip that is placed through the pin's hole and around the extinguisher's handle or lever. It acts as a visible indicator that the extinguisher has not been tampered with or used since its last inspection. If the tamper seal is broken or missing, it suggests that the extinguisher might have been used or tampered with, and the extinguisher's readiness is compromised.
Tamper Indicator: Some modern fire extinguishers also come with tamper indicators built into the handle or lever mechanism. These indicators change color or display a visual sign when the extinguisher has been used or tampered with. This provides an additional layer of assurance that the extinguisher is in proper condition.
Hose and Nozzle: Check the hose and nozzle for cracks, blockages, or damage that could hinder the flow of the extinguishing agent.
Extinguishing Agent: Confirm that the extinguishing agent (powder, foam, etc.) is visible through the inspection window. If it appears clumped or settled, gently tap the extinguisher to redistribute the agent.
Maintenance Tips for Fire Extinguishers
Apart from visual inspections, a few maintenance steps can extend the lifespan of your fire extinguishers:
Cleaning: Wipe down the exterior of the extinguisher to remove dust and dirt. This helps keep the labels and instructions legible.
Proper Storage: Store fire extinguishers in a cool, dry place away from direct sunlight and extreme temperatures.
Recharging: If the pressure gauge indicates a need for recharging, contact a professional fire equipment company to recharge the extinguisher.
Training: Make sure everyone in your household or workplace knows how to properly use a fire extinguisher. Conduct periodic training sessions to refresh their knowledge.
Professional Inspection
While DIY visual inspections are vital, a professional fire extinguisher inspection is essential for a thorough evaluation. They're also required by law. A professional inspection should be conducted every six months to make sure your fire safety equipment is in good working order and ready to serve when you need it.
During a professional inspection, expect the following:
Internal Examination
The fire safety technician will disassemble and inspect internal components for signs of corrosion, wear, or damage.
Hydrostatic Testing
This is a pressure test that ensures the extinguisher's container is still structurally sound and won't rupture under pressure.
Recharging and Replacement
Technician will recharge the extinguisher if necessary and replace any damaged components.
Count on Fire Protection Team For Your Semi-Anual Inspections
With just a few simple steps, your monthly visual inspections will go a long way toward ensuring your fire extinguishers remain ready for action in the event of a fire. When it's time for your required professional inspections, you'll want to partner with Fire Protection Team. With a solid reputation for fast and thorough work, we're the trusted expert for fire safety inspections in New England. Contact us today at 203.250.1115 for further information or to schedule service!