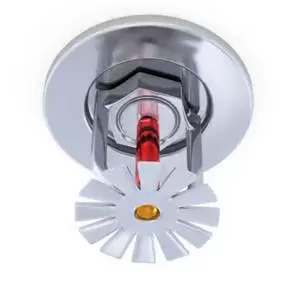 It seemed like warm weather would never come to New England, but it's finally here! This means it is time for Fire Protection Team to make its annual round of sprinkler trip testing of dry sprinkler systems. Have you ever wondered what this annual safety check is all about?
You might be thinking: "Once I install my fire protection system, I'm code-compliant." However, to remain up to code, you'll want your commercial property's fire protection systems to be functioning properly in the years following installation. Our experts know how to do an efficient sweep of all your fire protection systems to check if they're in working order.
Stay code-compliant and call or contact Fire Protection Team online to schedule your annual safety check today!
How to Test a Sprinkler System
Dry sprinkler systems contain pressurized air rather than water. These are often used in areas where water would freeze during colder weather (like New Hampshire and Connecticut!). Once the warmth of spring arrives, it's safe for knowledgeable and trained technicians to move water through the pipes to test the system.
Of course, it is up to you, the building owner, to ensure that these systems are regularly checked and maintained to be sure all residual water is drained out on a regular basis. However, there are some regulations to how often the systems should be tested to remain code-compliant.
Besides just being code-compliant, you can avoid potential fires with annual testing. In the case of a serious fire, properties with working sprinkler systems receive up to 60% less damage than those without. Not only are you saving your physical property, but you're also saving the lives of your staff and tenants.
Have questions about testing your dry fire sprinkler system? Contact us.
Our Other Fire Protection System Testing Services
We offer much more than just fire sprinkler trip testing! Here are some of our other services you might want to utilize to keep your property safe and up to code:
We are ready to come out and help get your building safe and protected from fire emergencies. Contact us online for any of the above services or your fire sprinkler trip testing today!
Our Service Area:
We mainly serve Connecticut. However, we do offer fire protection services to some cities in New Hampshire. Contact us online to see if your New Hampshire property is included in our service area. Our Connecticut service area radius includes:
Bristol, CT
Cheshire, CT
Danbury, CT
Derby, CT
East Hartford, CT
East Haven, CT
Fairfield, CT
Granby, CT
Groton, CT
Hamden, CT
Hartford, CT
Manchester, CT
Meriden, CT
Milford, CT
Monroe, CT
Naugatuck, CT
New Britain, CT
New Haven, CT
North Branford, CT
North Haven, CT
Northford, CT
Norwalk, CT
Norwich, CT
Orange, CT
Seymour, CT
Shelton, CT
Simsbury, CT
Stamford, CT
Stratford, CT
Torrington, CT
Trumbull, CT
Wallingford, CT
Waterbury, CT
West Hartford, CT
Windsor Locks, CT